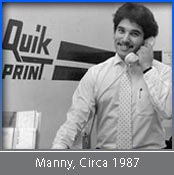 Printing on Fifth Avenue owner and operator Manny Marin started out as a printing press operator in the mid 1980's at the Quik Print/ Hillcrest location under owner Robert Spriggs. He became manager of the shop in less than six months and took over a store that was losing money every month. In less than a year, the store made the Top 25 of over 200 stores in the continental US. In the next year his store made the Top 10 and averaged number 5 over the next 10 years of Quik Print's existence.
Shortly after Robert Spriggs died unexpectedly, Quik Print was sold to the XYAN Corporation which bought small shops under one large umbrella. They planned on expanding regular copy shop capabilities to the digital arena for all locations. The plan was good but too early since technology was so expensive – their dream of equipment in every location was impossible. XYAN Hillcrest turned into a small commercial shop servicing such companies as Kaiser Permanente, Sybase Software, and 24-Hour Fitness. They went from 5 to 15 employees working 20 hours a day, 6 days a week. A few years of after expanding, XYAN went bankrupt. Once the bankruptcy was public knowledge, Manny approached the Vice-President of XYAN and they offered him the Hillcrest location for all of his hard work and dedication over the years.
Printing on Fifth Avenue was formed in May 2000, offering offset printing, color and black-and-white copying to the Hillcrest, Downtown, and Mission Valley areas. The key employees from the old XYAN location were retained. Minor changes were made to the storefront, and the biggest change was made to the main lobby. The baseball theme was taken and Manny's mini baseball museum was displayed. A rare number of baseball cards and other memorabilia are in front for customer's viewing.
Today, Printing on Fifth Avenue continues to service the local area and beyond. We specialize in printing for the realty industry and the legal and medical fields. With the trend in digital technology, Printing on Fifth Avenue is leading the way with state-of-the-art Xerox brand digital output machines from black-and-white to full color. We still offer 1-4 color offset printing from your camera-ready files, or we can custom-create your artwork in-house. We can handle your project from creation to finish in person or via the internet. Pick up and delivery are available for those of you who can't get out of the office.
We work with all types of companies, large and small, as well as many Non-Profits here in San Diego County. From start to finish make sure you are happy with what we do for you. It is our personal attention to every detail of your order that separates us from our competition. Our ability to turn your order around quickly and correctly to meet your deadline is our speciality! Graphic Design can be done in house, by our Designers on staff, to help you project your image. We offer free proofs of your project ( in most cases ) to help you make an informed decision.
Why would you send your business with to a company who sends all their work out to another location with no direct quality control? We offer
"In House Printing" and personal attention to each order.
Please give us a chance at your Printing needs and thank You for helping "Support your LOCAL Printer" in San Diego, California!
We service the greater San Diego area as well as the communities of El Cajon, La Mesa, National City, Chula Vista, Kearny Mesa, Sorrento Valley, Mirimar, La Jolla, Del Mar and Mission Valley. We also offer FREE ground SHIPPING and Delivery on most jobs we print from our Hillcrest Location. Call for details.