We have the industry current software for Mac OS X and accept most PC formats. more details
Learn the terminology. view printing terms/glossary
Xerox D110 Digital Press:  This black and white digital networked copier/printer outputs 110 copies per minute and has an inline booklet maker. It collates covers and inserts tabs, makes saddle stitched booklets, staples and punches 2 or 3 holes on a sheet. It stores documents in an external hard drive so we can save it and print when needed. It prints 2400 x 2400 DPI with no page skewing and produces awesome screens. It also has an imposer which can collate covers or inserts while a job is running. The D110 model EXCEEDS screen, text and solid quality better than the Docutech line which was Xerox™s best copier/printer on the market! We can also print short run 2, 3, and 4 part NCR Forms with sequential numbering runs as well as reports and manuals.
Xante Heavyweight Champion:   Full Color Stationary &  Envelopes ON DEMAND.  We can print VDP mailers and cards, Wedding Invitations on Metallic stocks, product packaging, POP displays, table tents, door hangers, and menus on this machine.
Heavy card stocks up to 500gsm (24 pt)
Includes iQueue Ultimate RIP-Workflow
Sheet sizes from 3 x 5 (76 mm x 127 mm) up to 13 x 52 (330 mm x 1321 mm)
Run variable data with or without Intelligent Mail barcodes*
Up to 2400 resolution
New HD Color / LED Printhead Technology
variable data printing
Intelligent Mail Barcode printing
Integrated PANTONE® Color Library
Real-time Job Cost Estimating
Custom QR Code Generator
Plate run length: >20,000 Impressions
We are the MASTERS in SoCal to run this awesome machine.  Let us Impress you with the fast turnaround and high quality.
Xante Digital Envelope/Stationary Press   It's another affordable solution from Printing on 5th that allows you to meet the demand for short to medium run full color Envelopes, Postcards, Banners, Stationary, and much more. It prints on wide variety of media from standard 20# bond to specialty papers, heavy cover stocks, label stocks and magnetic media and small paper bags too! See video below! High capacity for high production while keeping your tight deadlines in mind. The ILUMINA Digital Production Press features a high capacity feeder that holds up to 4,000 sheets of 20lb bond (up to 13³ x 22³) or 600 #10 envelopes, Glassine window envelopes and large envelopes (up to 13³ x 17³). This machine will address your Envelopes and Postcards with Variable Date printing at full speed running them landscape for faster speeds!
Videos
Xerox C75 Digicolor Press with Fiery RIP
Our new Full Color Printer is a fully networked printer with a Feiry interface that prints at a speed of 75 copies per minute from a Digital File. Each file can be color manipulated, set up for step and repeat, booklets, etc. This machine is the latest winner from Xerox. It can produce prints that only Fine Lithography used to be capable of. We use this machine for runs of 5000 or less.
We can print on High gloss cover & text from 16# paper to 16 pt. cover
Great for color flyers, postcards and business cards and posters up to 13 x 19.
CLICK HERE to see video
Roland BN-20 – Print/contour cut machine
Our Roland BN-20 is an eco-solvent printer that can produce Vinyl Graphics for T-Shirts, Car and shop windows, and full color contour cut stickers. Perfect for a Company needing small runs of product labels or quick turnaround T-Shirt printing
Ryobi 3304H 4 color Printing Press
This is our "Big Daddy" offset printing press that can run four color process to a sheet size of 13.5 x 17.5. It is a true four color press with four separate heads and four blankets. It is recommended for run lengths of 2500 to 50000. This is a slower process but the quality rivals any digital process in the market today capable of holding a 300 line screen. Typical turnaround for a 4 color process job is 7-10 days from handing us your job on disk. From that point we burn negs and plates and show you a proof.
Graphtec CE-6000 T-Shirt and Banner Vinyl Sticker cutter
Our Graphtec digital cutting machine using Cutting MasterPro software can contour cut T-Shirt vinyl for our heat press, full color stickers and banner vinyl in minutes. Great for short run custom labels as seen on video below.  See T-Shirt Printing on our list of services!
Bindery Equipment
Baum Folder 714
Our folder has the capability of folding 11 x 17 down to 8.5 x 5.5 size and folds 14000 per hour! It has micro adjustments for perfect, crisp folds. Typically for jobs that have been offset printed and not copied through a copier.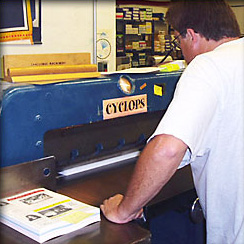 30″ Power Cutter
Our paper cutter "Cyclops" is a hydraulic pressure full power cutter with micro measurement capability. We can cut 24 x 36 parent size stock to sizes as small as 1 x 1. We keep a sharp blade and adjust it every few weeks to make sure it is accurate.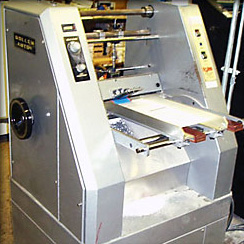 Rollum Mark IV
This machine perforates and scores paper at the speed of 15000 per hour.
Max sheet size is 12 x 18 and as small as 5.5 x 8.5.
It also numbers projects like tickets and gift certificates and crash numbers carbonless forms.
We can do numbers in black or red ink.
We have TWO of these machines on site.
HORIZON QC-S30 8 bin Collator
This collating machine was bought in 2013 for marrying multiple part NCR forms that we used to have to do by hand. We can now speed up delivery times by the use of this machine. It can collate mixed sizes, offset stacks for stapling, and can do 8.5 x 11 to 11. x 17 sheets in a snap!
Graphic Whizard PT370A – Digital CreaserTaking care of our Short run creasing tasks with the PT370 A. Processes up to a maximum sheet size of 14.5³ x 25.5³ / 36.8 cm x 64.75 cm (39³/99.1 cm handfed) and perform up to 16 creases per sheet! The PT370 A features an efficient vacuum suction feeder, simple touchscreen controls, and up to 50 jobs can be stored into long-term memory. We can now score a sheet right on top of toner and the finished job will fold perfect with no cracking. A MUST for anything we Digitally Print!